The compact design of the Critical Environment In-tool Ionizing Blower Model 5822i is designed to meet small-footprint ionizer requirements in automated process tools, offering exceptional performance in hard disk drive manufacturing and back-end semiconductor environments. The ionizer maintains a± 3 V or better balance standard and exceptional ±1 V with the optional external feedback system. An internal, automatic balance correction system ensures target is ionized accurately, presenting significant reduction in calibration and maintenance time resulting in cost savings. A collimator installed over the fan directs precisely balanced ionized air to the target without taking up valuable room in environment.




Features:
± 3 V or better, ± 1 V with the optional external feedback system
Facility Monitoring System (FMS) connection and audible alarm
Separate control box
Cleanliness rated at ISO 14644-1 Class 4


Benefits:
Provides the best ESD critical environment protection available for maximizing yields
Faster response to ionization failure with notification through tool or FMS
Allows the blower to be situated close to the target area for fast electrostatic discharge
Designed for use in environment with a controlled level of contamination




Typical Decay Time (sec)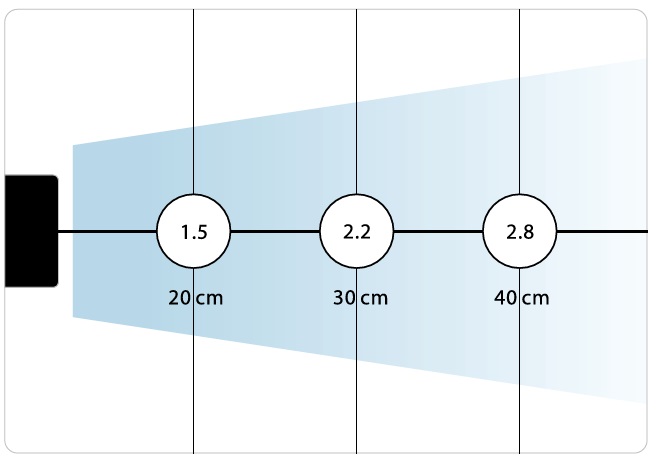 Specifications:
5822i

Input Voltage
24 VDC, 1 A max, External Power Supply (100 - 240 VAC, 50/60 Hz)

Decay Time
< 2.5 s @ (1000 V to 100 V, 30cm)
Balance
<±3 V typ. @ (30 cm, without external sensor);
<±1 V typ. @ (30 cm, with external sensor)
Technology
Steady-state DC
Emitter
Tungsten Alloy; Optional - Machined Titanium
Cleanroom Class
ISO 14644-1 Class 4
Controls
Balance adjust; Sensor gain adjust; Fan Slow/Off/Fast speed;
Fan adjustment at "Slow" position; Sensor Mode DIP switch
Indicators
Control Box : Power - Green; Alarm - Red
Airflow (m3/min)
0.58 (typ)
Audible Noise
< 56 dB @ 30cm
Operating Env.
10 - 35ºC, 30 - 65% RH (non-condensing), ≤ ISO 14644-1 Class 7 or better
Mounting
2 mounting screw holes 3.05cm apart on bottom of blower
Enclosure
Stainless Steel
Dimensions
Blower : 11.5H x 8.3W x 6.1D cm;
Control Box : 2.5H x 13.2W x 6.0D cm
Weight
Blower : 0.51kg; Control Box : 0.25kg
Certifications

Optional Feedback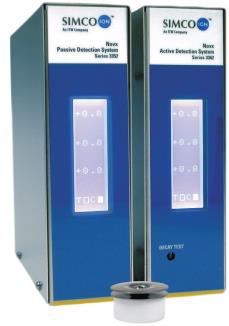 The Model 5822i ionizer's optional external feed back sensor operates with the Novx Process Monitor 7000, Novx Passive Detection System 3352 and Novx Active Detection System 3362 to detect and automatically correct the balance. With the antenna placed at the target area, feedback is sent to the Model 5822i blower's internal control system. This ensures the target maintained at± 1 V or better balance at all times, no matter what environmental variables exist.


Directed Airflow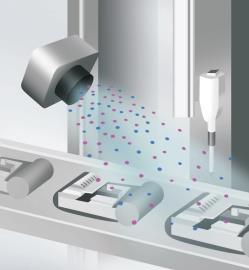 The collimator fits over the air outlet of the blower and directs ionized air straight to the target, so that the blower can be placed further away from the target with continued excellent discharge times and good performance at extended distances. This faster, directed airflow method improves ion and static elimination, significantly minimizing ion recombination.