Simco-Ion's µWire ("Microwire") AeroBar Model 571 0 is a cost-effective, high-performance ionizer specifically designed to eliminate static charge on large surface areas. It is particularly suited for sensitive flat panels where fast discharge times and low swing voltages are desired. The use of Micropulse technology applied to a corona wire system for optimal performance. The technology reduces ion recombination thus increasing product efficiency and performance.

The µWire Bar is optimized for its unique corona wire design which produces more ions than emitter points. The corona wire design also permits the bar to be placed closer to substrates without causing the "triping effect" that emitter point bars can generate.

This latest version of the µWire AeroBar includes numerous changes to provide higher performance. Most notably, the addition of a 2nd air input connector improves performance on bars 2500 mm and longer. Shields have been added to protect wire contacts, making it truly a "one swipe to clean" bar.




Features:
Unique corona wire design, no emitter points
Micropulse high voltage technology
Flexible and powerful setup


Benefits:
Significantly longer cleaning intervals than those emitter point technology products
Fast cleaning with a single swipe of the wire
Allows mounting close to product without danger of striping
Long-term balance stability and discharge time performance
Uniform balance over the length of the bar
Lower cost-of-ownership
Standard "plug-and-play" use or user-optimized performance for specialized applications


Typical Decay Time (sec)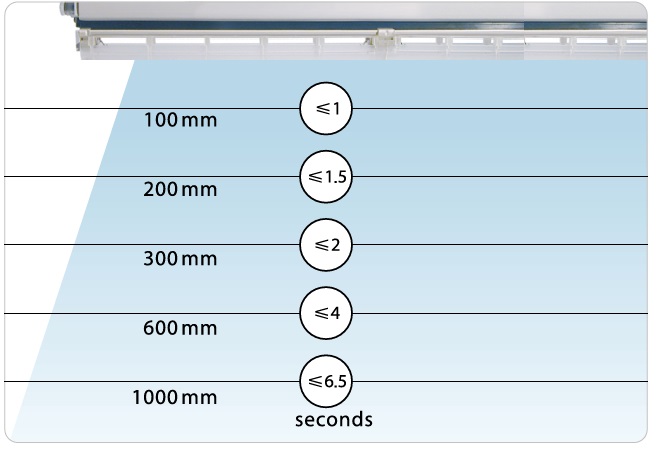 µWire AeroBar Model 5710 (500 mm length) with 50 mm
Air Jet Spacing. Measured using Simco-Ion
CPM Model 280A w/HEPA flow 0.3m/sec & CDA flow at 0.05 m3/min.



Specifications:
5710

Input Voltage
24 VDC ± 10%, 12 W max
Output Voltage
Adjustable 13 kV pk-pk (typ)
Balance
<± 25 V over the length of the bar
Working Range
50 - 2000 mm, application and specification dependent
Technology
Micropulse
Frequency
Factory default at 1 Hz, adjustable from 0.1 - 35 Hz
Emitter
Tungsten wire, 80 micron dia., replaceable
Cleanroom Class
ISO 14644-1 Class 2
Controls
All parameters set via wired handheld terminal (HHT)
Indicators
Power - Green; Communication - Yellow; Alarm - Red; LED combinations indicate specific status conditions
Gas Input
Clean dry air (CDA)
Gas Pressure
3.45 bar (optimal); 6.2 bar max
Gas Connection
Bars 400-1500 mm ( 50 mm air jet spacing) : 6 mm OD quick connector;
Bars 1650-2400 mm ( 50 mm air jet spacing) or bars 400-1500 mm
(25 mm air jet spacing) : 8 mm OD quick connector; Bars >= 2500 mm
(50 mm air jet spacing) : Two 8 mm OD quick connectors
EMI Level
Below background level
Ozone
< 0.05 ppm
Operating Env.
15-35ºC, 30 - 60% RH (non-condensing)
Enclosure
ABS Chasis, Stainless Steel Reference Plates
Dimensions
7.6H x 3.3W x Length : 40/50/65/75/90/100/115/125/140/150/165/175/190/200/215/225/240/250/265/275/290/300 cm
Certifications




Application Flexibility

The µWire AeroBar can be operated with the factory default settings in " plug-and-play" mode, or optimized for a specific application using the Hand held Terminal. The bar's ability to perform well in either a vertical or horizontal position along with the µWire AeroBar low profile height design makes it easy to install in a variety of flat-panel tool locations, including mail-slot, conveyor and load/unload cassette areas.

A maximum of three µWire AeroBars may be electrically connected together in a serial fashion ("daisy-chained").

Air jet spacing at either 25 mm (recommended for target distances up to 600 mm) or 50 mm offers optimal performance for each individual application.


Handheld Terminal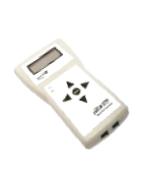 Use the Hand held Terminal (HHT) to change the settings of the 5710 Aero Bar. The HHT can also be used to monitor operation status and parameter, such as bar address, frequency, power output, standby mode, alarm test, and firmware version.



Emitter Wire Cleaner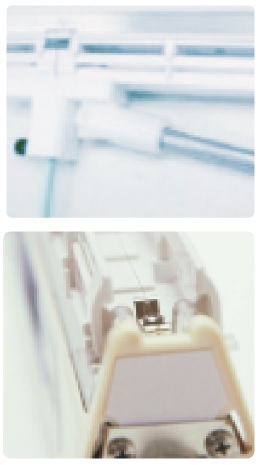 The 5710µWire Aero Bar has a specific design emitter wire cleaner: placing foam swap inside and swap along the emitter wire, those accumulated dirts can be removed in a fast and simple way. The emitter cartridge can also be detached for replacement.