Simco-Ion's new Aerostat XC2 provides complete wide area ionization protection. As with its predecessor, the Aerostat XC Ionizing Blower, the Aerostat XC2 is designed and built for reliable, long-term static control for a variety of electronic, semiconductor, flat-panel display and medical assembly applications. The XC2 offers outstanding coverage for larger areas with< 12 second discharge times at 1.8 m distance from the face of the blower. The weight-saving design allows the Aerostat XC2 to be mounted above the work surface, which is especially effective for flat panel display module assembly.

The Aerostat XC2 offers inherent balance to 0 ± 10 V for protection of sensitive electronic components. The XC2 is loaded with usability features including a built-in emitter point cleaner, adjustable locking stand, fan speed control, optional airflow heater and separate balance and fan-stall alarm LEDs with optional audible alarm. These features, plus its stylish design, make the Aerostat XC2 the ideal extended coverage ionization blower for assembly, test and packaging areas.






Features:
Large, near symmetric Ionization area coverage
Weight saving design
Easy to use, built-in emitter cleaner
± 10V self-balancing (Micropulse) technology
Local alarm LEDs, Facility Monitoring System (FMS) connection and optional audible alarm
Integrated heater for warm air flow

Benefits:
Designed for complete static neutralization across the entire work surface area
Light enough to be easily mounted on or above the work surface
Insures consistent, balanced performance over a long time
High precision balance never needs calibrating
Ionization status can easily be monitored locally and at a remote location
User comfort helps to insure that ionization remains on

Typical Decay Time (sec)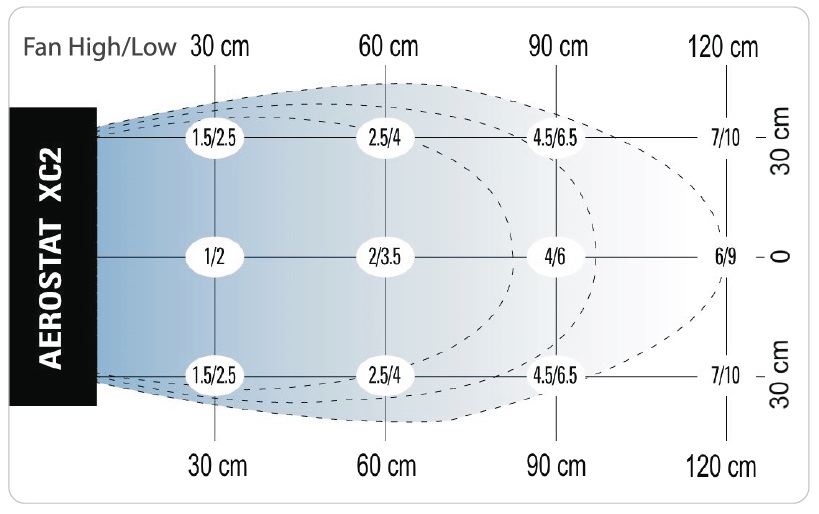 Specifications:

Aerostat XC2

Input Voltage
100 - 240VAC, 0.5A,55W max @ no heather (Warm Air on - 460 W);
Decay Time
<1 s @ (1000 V to 100 V, 30cm, Fan-high)
Balance
0 ±10 V
Technology
Micropulse
Emitter
Stainless Steel
Coverage
90 x 180cm
Cleanroom Class
ISO 14644-1 Class 6
Controls
Power On/Off switch; Fan Low/Medium/High speed switch;
Balance adjustment; Optional - Heater On/Off switch
Indicators
Power - Green; Fault - Red alarm; Fan Stall - Red alarm
Connections
IEC power in; FMS fault alarm output
Airflow (m3/min)
1.98 @ Fan-low, 4.25 @ Fan-high

Audible Noise
58dB @ (60cm, Fan-low), 70dB @ (60cm, Fan-high)
Air Velocity (m/s)
3.15 @ 30cm; 2.21 @ 60cm; 1.65 @ 90cm; 1.35 @ 120cm
Warm Air
Optional - Above ambient : 2 - 3ºC @ 30cm in front
Ozone
<0.05 ppm @ 30 cm in front
Operating Env.
10 - 35ºC, 30 - 60% RH (non-condensing)
Audible Alarm
Optional - Fault, Fan Stall
Air-Filter
Optional - 30 ppi open cell polyurethane foam
Mounting
Powder-coated steel stand with skid, resistant rubber feet
Enclosure
Powder-coated Aluminium Chasis
Dimensions
35.9W x 18.3H x 16.6D cm (with Stand)
Weight
3.2kg (with Stand)
Certifications

Low Maintenance

The Aerostat XC2 utilizes micropulse technology which reduces ion recombination at the emitter, thus increasing product efficiency and performance. Using this breakthrough technology, the Aerostat XC2 maintains long term peak performance and balance stability for extended periods between cleanings.

The only maintenance required for the Aerostat XC2 is periodic cleaning of the emitter points using the easy, built-in push button so as to remove any debris and ensuring balanced, continuous ion output.