Simco-Ion's Top Gun Ionizing Air Gun is a high-performance ionizing air gun designed for a wide variety of electronic manufacturing, medical and assembly applications. Balanced to 0±15 V, the Top Gun features high blow-off force and low air consumption providing high efficiency cleaning and maximum static charge decay. A filter at the exit of the gun ensures that the air is clean.

The gun body is lightweight but durable. It features a light-touch trigger, making it comfortable even for extended use. All functionality is built into the gun, including a flow control valve, a balance adjustment for calibration, and a two level LED which indicates both power and ionization. Both the gun and cable are static dissipative. A hanger is provided for easy
mounting.

The orlON, converted from Top Gun to work as ionizing air nozzle, also features high blow-off force capability and reliable balance stability maintained at better than ±15 V. An easily replaceable 0.01 micron particle filter is positioned at the nozzle air exit to provide the highest confidence that clean air is delivered to sensitive product.





Features:
Lightweight, Ergonomic Design
Flow Control Valve for Adjustable Airflow (Top Gun only, not for orlON)
Electrically balanced ion output
Integrated, Replaceable Filter-Nozzle
Ionization Indicator Light
Benefits:
Maximum user comfort prevents operator fatigue and increases productivity
Airflow use that meets the specific application requirements
Protects ESD sensitive components and assemblies
Insures air contacting the target area is clean
Eliminates the guesswork of ionization at target area
Specifications:
Top Gun 3 or orION
Input Voltage
120 VAC, 60 Hz, 0.2 A; 230 VAC, 50Hz, 0.1 A

Decay Time
1.3 s @ (1000 V to 100 V, 15.2 cm, 2 bar);
0.5 s @ (1000 V to 100 V, 5cm, 4 bar)
Balance
0±15 V
Technology
AC Ionization
Emitter
Stainless Steel
Indicators
Power - Red in reduced intensity; Trigger - Intensity increase
Gas Input
Clean Dry Air (CDA) or Nitrogen
Gas Connection
1/4" NPT female
Gas Consumption
0.068m3/min @ 2 bar; 0.13m3/min @ 4 bar; 0.21m3/min @ 7 bar

Blow-off Force
0.18kg @ (7bar, 5cm Dia target, 7.5cm distance)
Operating Env.
0 - 40ºC; 30 - 60% RH (non-condensing)
Enclosure
Gun: Static Dissipative Polycarbonate/ABS Blend;
Cable: Static Dissipative Polyurethane
Gun Cable
Standard 7' or 14', Optical Sensor version 5' or 14'
Weight
Gun: 0.185 kg; Air hose: 0.115 kg/meter
Certifications


Console

Input Voltage
120 VAC/ 0.10 A, 230 VAC/ 0.05 A

Gas Pressure
7 bar max, Clean Dry Air (CDA) or Nitrogen
Gas Connection
1/4" NPT female
Enclosure
Powder-coated Steel
Dimensions
13.2W x 16.4H x 8.5D cm
Weight
2.7kg
Top Gun 3 balance long term stability (V)

Distance
0 hr
195 hrs
465 hrs
1440 hrs




@ 2 Bar


5 cm
-8
5
0
-12
10.2 cm
-8
8
1
-10
15.2 cm
0
6
5
-1
@ 4 Bar
5 cm
-2
2
-1
-10
10.2 cm
-5
2
-1
-8
15.2 cm
-1
1
1
-5
Sidekick (Foot-pedal)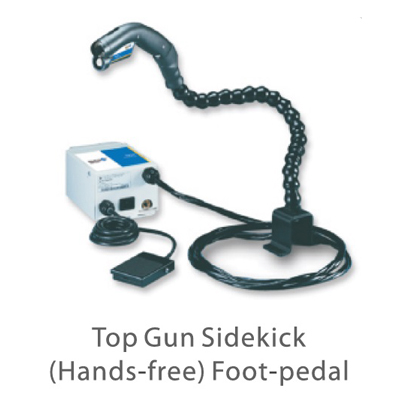 The Top Gun with Sidekick offers hands-free operation and flexible positioning during assembly and manufacturing processes. A foot-pedaI controls both ionization and airflow, which reduces compressed air costs and extends the life of the ionizer.

The flexible gun mount allows the operator to focus the ionized airflow where it is needed. The stand includes a steel bracket for easy bench top mounting.
• Fully adjustable 46 cm neck focuses the ionized airflow
• Tabletop bracket provides easy mounting
• Foot-pedal permits hands-free operation

Optical Sensor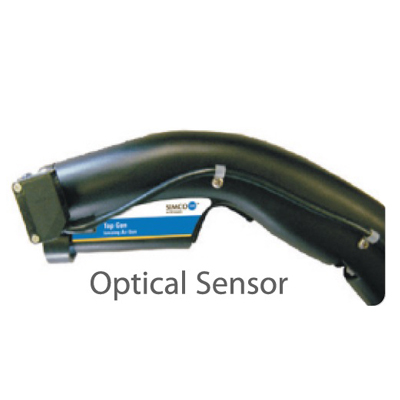 For automated assembly, Top Gun and orlON are available with an optional Optical Sensor, which automatically activates Top Gun and orlON when an object is in range.
The Optical Sensor has an adjustable sensing range from 2.5- 76 cm.

Applications:
Medical device manufacturing and packaging
Precision parts assembly
Particulate removal in optics
Cleaning glass or molded parts prio to finishing
Cleaning thermo-formed trays