The Simco-Ion Critical Environment Overhead Ionizer Model 5810i is designed to provide industry-leading balanced ionization performance in cleanroom environments. It is certified for use in ISO 14644-1 Class 4 cleanrooms. It can operate with external sensors to maintain precise balance (better than ± 1 V) by altering ion output and adapting to environment changes. With the reliability of steady-state DC and the established method for eliminating the effects of ESD and ESD-induced electromagnetic interference (EMI) in hightech facilities, it delivers maximum ion output where and when needs it.

Complete compatibility with the operating conditions in today's cleanrooms is ensured with silicone-free air bearing fans. Each fan inside is engineered for cleanliness, and sealed off from the rest of the chassis to meet critical cleanroom requirements. Ionizers that don't match these quality standards risk contaminating manufacturing processes and possibly reducing product yields.

Model 5810i may connect with other 5810i (daisy-chain) in series, up to 1 0 units, using the female AC outlet provided on one end.





Features:
± 3 V or better, ± 1 V with the optional external feedback system
Cleanliness rated at ISO 14644-1 Class 4
Options for sensor input, FMS connection, alarms, and management control
Auto-Clean System option

Benefits:
Provides the best ESD protection for maximizing yields
Designed for use in an environment with a controlled level of contamination
Increased control with immediate notification of alarms and prevention of unauthorized adjustment
Automated emitter point cleaning for reduced maintenance cost and time

Typical Decay Time (sec)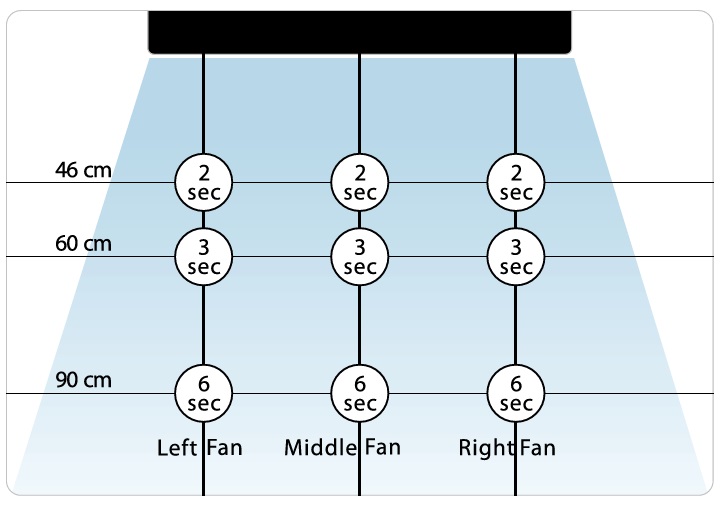 Specifications:

5810i
Input Voltage
100 - 240 VAC (±10%), 50/60 Hz, 28W max
Decay Time
<3s (1000 V to 100 V, 46cm, Fan-High)
Balance
< ± 3 V typ. @ (30cm, without external sensor);
< ± 1 V typ. @ (30cm, with external sensor)
Technology
Steady-state DC
Emitter
Machined Titanium
Cleanroom Class
ISO 14644-1 Class 4
Controls
Power with fan speed switch - Off/Low/High (Optional-Fixed at High Speed);
Balance adjust trimpot per fan; Optional sensor gain trimpot per fan;
Sensor type or no sensor slide switch
Indicators
Power - Green; Fault - Red alarm
Connections
IEC Power In and Out for daisy chain up to 10 units in series from one power source;
Optional external sensor input
Airflow (m3/min)
3.06 (typ) per fan
Audible Noise
52dB @ (30cm, Fan-low), 61dB @ (30cm, Fan-high)
Ozone
<0.02 ppm
Operating Env.
10-32ºC, 30-70% RH (non-condensing)
Options
External sensor inputs; FMS 4-20 mA RJ-11 output (available with sensor option only);
Audible alarm; Cord lock; Auto-Clean System
Mounting
Eye-bolts and S-hooks provided; Optional- U-shape bracket
Enclosure
Epoxy-polyester powder-coated Aluminum Chasis
Dimensions
9.6H x 15.5D x Length 81.3 (32" 2-fans), 101.6 (40" 3-fans), 111.8 (44" 3-fans) cm
Weight
44" (3-fans) : 4.6 kg
Certifications
± 1 V Operation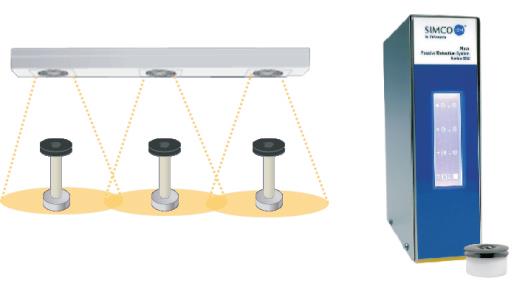 The Model 5810i ionizer's optional external feedback sensor operates with the Novx Process Monitor 7000, Novx Passive Detection System 3352 and Novx Active Detection System 3362 to detect and automatically correct the balance. This ensures to maintain a± 1 Vor better balance at all times.


Fan Speed Choices

The 5810i was designed specifically for use in clean rooms up to and including ISO 14644-1 Class 4 in cleanliness. To minimize disruption of laminar airflow, the unit has a 3-position fan setting that optimizes static discharge performance with the smallest volume and velocity of airflow.


Factory Monitoring System

The blower includes an LED alarm light that indicates a range of possible conditions, including absence of ionization or a stopped fan. An optional Audible Alarm is available. The optional Facility Monitoring System (FMS) feature provides an industry-standard 4 - 20 mA signal output for remotely monitoring error detection.


Auto-Clean System

The optional Auto-clean System is an automated feature that provides reduced operation costs due to lower maintenance. It features a brush mechanism that sweeps the emitter points when the blower is turned off and on, allowing the Model 5810i to continually perform at optimum ion output and balance.