ECR-T is Transfer type melamine based mold cleaner.
The optimum cleaning material can be select according to the epoxy molding compound and design of molding tool.
And we can provide various size for cleaning based on epoxy molding compound.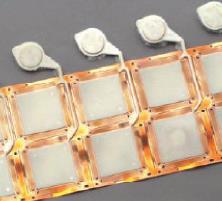 Grade Property

CC Grade: Standard type.
PF Grade: Environmentally-grade containing less than 1% of free phenol.
CL Grade: High performance grade of slow cure type having high fluidity and high cleaning ability.
CP Grade: High cycle grade of quick-curing type which can reduce cleaning time.
GR Grade: High function grade for green materials developed to solve the problem of mold contamination.

Nikalet ECR has the three cleaning effects shown here.