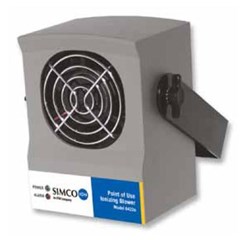 Model 6422e Point of Use Ionizing Blower
The Simco-Ion Point of Use Ionizing Blower Model 6422e is the most efficient small blower of its kind for controlling static discharge in hard-to-reach areas. In the tight confines of process tools, ionization must be easy and cost-effective, but carry the same level of sophistication found in larger ionizers. The Model 6422e meets the challenge of cost and features that your process demands by delivering worry-free ionization. The Model 6422e utilizes IsoStat technology, making it the most reliable blower of its kind.
The Model 6422e-AC incorporates our Auto-Clean system that cleans the emitter points each time the unit powers down. Automated cleaning reduces maintenance time, extends emitter point life and assures balanced performance.
Features
IsoStat® technology

Small form factor available in steady-state DC ion emission blowers

24 VDC or 24 VAC input

Facility Monitoring System (FMS) interface

Operational failure alarm

U-bracket mounting

Auto-Clean System
Benefits
Self-balanced; no calibration needed

Innovative design offers fast discharge times in confined (point of use) areas

Can connect directly to your process equipment's power source or to your wall power

Faster response to ionization failure with notification through tool or facilty monitoring system

Provides visual notification of any operational failures

Flush or angled mounting means the blower will reach constrained spaces

Reduced maintenance time, longer emitter point life, and assured balanced performance