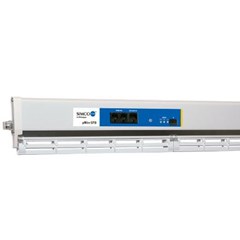 Model 5710 MicroWire Aerobar
Simco-Ion's μWire ("Microwire") AeroBar Model 5710 is a cost-effective, high-performance ionizer specifically designed to eliminate static charge on sensitive flat panels where fast discharge times and low swing voltages are desired. The μWire Bar utilizes MicroPulse technology applied to a corona wire system for optimal performance. MicroPulse technology reduces ion recombination at the corona wire, thus increasing product efficiency and performance. Using this breakthrough technology, the μWire Bar maintains peak performance for longer periods between cleanings, resulting in extended cleaning cycles compared with conventional products.
The μWire Bar is optimized for lower gas consumption through its unique corona wire design. Corona wire produces more ions than emitter points, thus less gas is needed to effectively ionize the target area. The corona wire design combined with optimal positioning of the gas orifices along the emitter cartridge offers a lower cleaning frequency over time.
Features
Unique corona wire design (no emitter points)

MicroPulse high voltage technology

Flexible and powerful setup
Benefits
Significantly longer cleaning intervals than with standard emitter point technology products

Fast cleaning with a single swipe of the wire, accomplished with the bar in place

Reduced gas consumption with equivalent performance

Allows mounting close to product without danger of striping

Long-term balance stability and discharge time performance, surpassing emitter point technology product capabilities

Uniform balance over the length of the bar

Lower cost-of-ownership than emitter-point technology ionizers

Standard "plug-and-play" use or user-optimized performance for specialized application