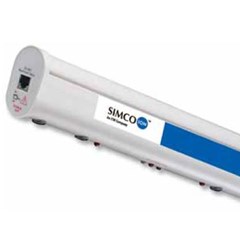 Model 5225S Standalone Digital Aerobar
Simco-Ion's Standalone Digital AeroBar Model 5225S ionizing bar is specifically designed to provide high performance with simple integration and operation. Adjustable and precise, easy-to-use digital settings allow the AeroBar to be used in a multitude of applications, ranging from inside tools to work stations and cleanroom areas. A choice of ionization modes, output voltage, and timing provide versatility to meet static charge neutralization requirements.
An aerodynamic design and cleanroom-compatible materials allow the Model 5225S to deliver complete and efficient ionization in mini-environments and cleanrooms without disrupting laminar airflow.
Designed to operate as a standalone system, the Model 5225S AeroBar internally maintains critical settings, thereby ensuring continued optimal performance each time the system is powered up. AeroBar setup and adjustment is easy using the infrared Handheld Remote. An FMS output allows easy hardwired integration to a facility alarm system.

Features​​
All parameters are held within the AeroBar. No controller required.

Fully adjustable parameters for each AeroBar utilizing pulsed DC or steady-state DC modes

Several AeroBar lengths including three lengths specifically designed for EFEMs

Ion current monitoring

FMS alarm output

Single-crystal silicon emitter points
Benefits
Continued optimal performance each time the system is powered up

Ionization can be fine-tuned for individual static charge requirements

Flexible lengths means versatility for a variety of applications

More consistent ion output and stable performance

Alarm capability for ensured performance

Ultra-clean emitter point material, with no risk of wafer contamination from dopants or metals