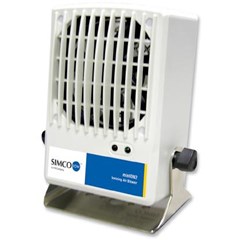 Simco-Ion's minION2 Ionizing Blower is designed to control electrostatic charges in sensitive electronics assembly and automated tool applications requiring stable operation with fast discharge time performance. The minION2 is built to deliver big performance and reliability in a compact package with a practical feature set.​​​

A combination of unique, patented features incorporated in this product make it possible for the minION2 to deliver industry-leading performance. Simco-Ion's steady-state DC corona ion technology provides a patented control circuitry to deliver consistent performance. Performance is enhanced by use of patented radial ion emitter design. Our unique geometry and airflow control provide performance meeting the demands of electronics and critical assembly manufacturers with corona ion technology.

minION2 uses a modular wiring system that allows power delivery by "daisy-chaining" up to 3 units on one standard, modular power supply. Hard wiring of power can be accommodated by use of a terminal block located on the back of the unit. The terminal block also features a relay contact output of the fault signal to enable remote monitoring.
An optional clamp-on articulating arm stand is available for applications requiring an elevated position or to save work surface space.