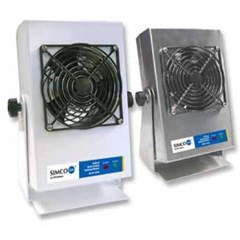 Model 5802i Critical Environment Ionizing Blower
The Critical Environment Ionizer Model 5802i provides reliable, fast static charge control for benchtop work areas and small spaces, allowing optimal electrostatics management that minimizes cost and maximizes protection for ESD-sensitive areas. An internal automatic balance correction system ensures ionization continues to reach your target with complete accuracy.
Maintaining better than ±1 volt (or ±3 volts without sensor) balance, the Model 5802i is an ideal solution for sensitive applications. Connected to an external sensor at the target area, the Model 5802i delivers precise balance while remaining space efficient. Automatic correction of offset balance reduces maintenance and adjustment costs, presenting a significant time and costs savings.