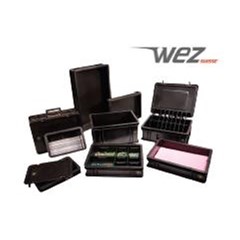 Conductive Injection Molded Containers
The hazard of electrostatic discharge damage to electronic component modules and units
can be attributed to the growing complexity (density) of printed circuits, which make them more susceptible to these damages. Today, voltages as low as 10V can destroy electrostatic
sensitive devices and the greatest risk comes from manual handling of the human body, which often carries electrostatic charges in excess of several thousand volts
.
The damage caused by electrostatic discharge presents a serious threat to the electronics / data storage industries. These days, manufacturers have to comply with ISO 9000 quality
standards and supply relevant documentary proof. They can also be held accountable for consequential damage resulting from faulty products. The only sensible policy to adopt is one
of prevention: WEZ BlackLine Conductive Injection Molded Containers protect your electronic products through all phases of manufacturing and logistics.