Strong arm and high speed "application" master robot
High speed and drawing precision's improvement

High-speed tracking, and precise application shape drawing
High definition rendering without distortion of the corner shape or residual liquid at the start or end point

High rigidity and no loss of synchronis

High rigidity design that supports mounting of an image recognition unit or multiple heads.
Achieving no loss of synchronism with closed loop control

Unrivaled ease of operation

User friendly programs and easy to understand command group
Create and manage programs easily with the dispense pattern edit software MuCADII
---
Specifications

High Precision type ( 3 Axis & 4 Axis )
Series name
SM200DSS
SM300DSS
SM400DSS
SM500DSS
No. of axes controlled
3-axis
4-axis
3-axis
4-axis
3-axis
4-axis
3-axis
4-axis
Travel ranges
X-axis,Y-axis
200mm
300mm
400mm
500mm
Z-axis
60mm
W-axis
-
±360º
-
±360º
-
±360º
-
±360º
Range of PTP operation maximum speed
X-axis,Y-axis
500mm/sec.
Z-axis
100mm/sec.
W-axis
-
900º/sec
-
900º/sec
-
900º/sec
-
900º/sec
Range of line operation maximum speed
X-axis,Y-axis
100mm/sec
Z-axis
100mm/sec
W-axis
-
250º/sec
-
250º/sec
-
250º/sec
-
250º/sec
Repetitive
positioning
accuracy (*1)
X-axis,Y-axis
± 0.005mm
Z-axis
± 0.002mm
W-axis
-
±0.01º
-
±0.01º
-
±0..01º
-
±0.01º
Transportable
Weight (*2)
Y-axis
(work base
side)
20kg
Z,W-axis
(head side)
15kg
6kg
15kg
6kg
15kg
6kg
15kg
6kg
Control method
PTP control and CP control
Interpolation
3-dimensional linear / circular interpolation
Program capacity
10,000 steps
Data
Storage
System
Internal: FLASH PROM
External: Backup on PC media with fluid dispensing pattern editing software, MuCADIII
External input/output (general-purpose)
Input
17 POINTS
Output
26 POINTS
Power supply/
consumption
AC 100 ~ 240V 50 / 60Hz • 150VA
External Dimension
W
382mm
482mm
582mm
682mm
D
530.4mm
680.4mm
710.4mm
860.4mm
H
562.7mm
662.7mm
562.7mm
662.7mm
567.7mm
667.7mm
567.7mm
667.7mm
Weight
27kg
28kg
32kg
33kg
41kg
42kg
52kg
53kg
System req. temp.
& humidity
0º to 40º • 20 to 80% ( There must not be dewfall )
Option
All types of work bases, all types of holders, teaching pendant,
vacumm BOX, cleaning pack, cuck type nozzle cleaner and safety hood
(*1): This valve is measured by the method prescribed by Musashi (measuring method in conformity with JIS).
(*2): Those values vary depending on the conditionssuch as speed, operation pattern, gravity center of the loaded object or other factors. The valueof Y-axis is including the weight of work base (optional).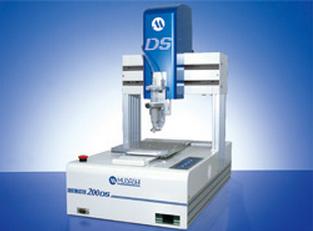 This image is SM200DS of a standard type.
Standard type ( 3 Axis & 4 Axis )
Series name
SM200DSS
SM300DSS
SM400DSS
SM500DSS
No. of axes controlled
3-axis
4-axis
3-axis
4-axis
3-axis
4-axis
3-axis
4-axis
Travel ranges
X-axis,Y-axis
200mm
300mm
400mm
500mm
Z-axis
60mm
W-axis
-
±360º
-
±360º
-
± 60º
-
±360º
Range of
PTP operation
maximum speed
X-axis,Y-axis
800mm/sec.
Z-axis
100mm/sec.
W-axis
-
900º/sec
-
900º/sec
-
900º/sec
-
900º/sec
Range of line
operation maximum speed
X-axis,Y-axis
400mm/sec
Z-axis
100mm/sec
W-axis
-
250º/sec
-
250º/sec
-
250º/sec
-
250º/sec
Repetitive
positioning
accuracy (*1)
X-axis,Y-axis
± 0.001mm
Z-axis
±0.01mm
±0.002mm
±0.01mm
±0.002mm
±0.01mm
±0.002mm
±0.01mm
±0.002mm
W-axis
-
± 0.01º
-
± 0.01º
-
± 0.01º
-
± 0.01º
Transportable
Weight (*2)
Y-axis
(work base
side)
10kg
15kg
Z,W-axis
(head side)
3kg
6kg
3kg
6kg
3kg
6kg
3kg
6kg
Control method
PTP control and CP control
Interpolation
3-dimensional linear / circular interpolation
Program capacity
10,000 steps
Data Storage System
Internal: FLASH PROM
External: Backup on PC media with fluid dispensing pattern editing software, MuCADIII
External
Input
17 POINTS
Output
26 POINTS
Power supply/ consumption

AC 100 ~ 240V 50 / 60Hz • 150VA
External Dimension

W
300mm
400mm
500mm
620mm
D
530.4mm
630.4mm
710.4mm
810.4mm
H
562.7mm
662.7mm
562.7mm
662.7mm
567.7mm
667.7mm
567.7mm
667.7mm
Weight
21kg
22kg
25kg
26kg
29kg
30kg
34kg
35kg
System req. temp. & humidity
0º to 40º • 20 to 80% ( There must not be dewfall )
Option
All types of work bases, all types of holders, teaching pendant,
vacuum BOX, cleaning pack, cuck type nozzle cleaner and safety hood
(*1): This valve is measured by the method prescribed by Musashi (measuring method in conformity with JIS)
(*2): Those values vary depending on the conditions such as speed, operation pattern, gravity center of the loaded object or other factors. The value of Y-axis is including the weight of work base (optional)