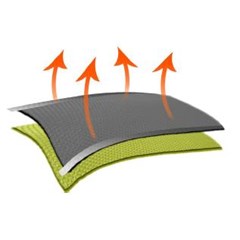 CarboImpreg is an electrically conductive impregnation for heating of absorptive surfaces up to 100°C. Very simple application, operation on non-hazardous low voltages plus high-performance heating means a whole variety of possible usage.

CarboImpreg enables impregnation of rough or absorptive surfaces of very different materials, such as leather or textiles. Surfaces impregnated in this way can be electrically heated by applying a non-hazardous low voltage (e.g. 12 or 24 V)

Unlike coatings, CarboImpreg will soak into the surface of a material and fuse with it internally. In this way full processing of the material without any restrictions is still assured. Additionally, it becomes highly wear-resistant.

Compared to conventional heating elements CarboImpreg offers many other advantages:
very simple application, by manual or mechanical means

heating of surface geometries of any shape, and flexible materials (e.g. natural materials)

extremely high electrical safety through operation on non-hazardous low voltage

direct use of low-voltage sources, e.g. 12/24 V onboard networks and solar current

entirely even heating of large areas without hotspots

straightforward electrical connection

simplicity of control

highly cost-attractive compared to conventional heating systems
CarboImpreg consists of a binder matrix and a special, highly conductive carbon preparation. Excellent conductivity allows high heating performance solutions on non-hazardous low voltages (e.g. 12 or 24 V). Furthermore, treated surfaces exhibit high ampacity, enabling very fast heat buildup rates.

CarboImpreg heating solutions are highly robust. The impregnation does not degrade the processing characteristics of the carrier material, and exhibits excellent resistance to water and alkalis.
Unlike more common resistance heating, CarboImpreg radiates heat absolutely uniformly without the risk of hot spots.

The illustrations show the heat distribution of a CarboImpreg heating surface compared to the response of a conventional resistance heating element.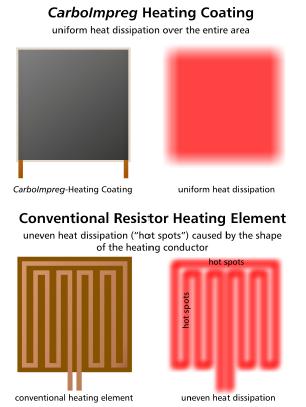 CarboImpreg can be applied manually and mechanically, by brushing, rolling, blade, spraying or printing, and dries within a couple of minutes.
CarboImpreg is suitable for a broad spectrum of applications, for example:
surface heating for vehicles

heating of natural and synthetic fiber fabrics or fleeces

heating of leather

heating of fiberglass fabrics

wall heating (e.g. for building renovation)

heating in machine and plant engineering

heating for molds (e.g. CRP/GRP parts)

anti-frost protection