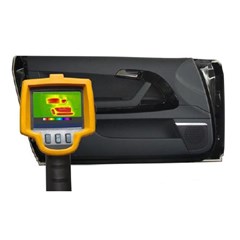 Carbo e-Therm is a high-efficiency, electrically heatable coating developed for use in a non-hazardous low-voltage range. Its excellent applicability to very different geometries and surfaces plus high heating power open up a wide field of possible uses.

Carbo e-Therm is an electrically heatable coating based on carbon nanomaterials, developed especially to operate with non-hazardous low voltages.

Compared to conventional heating elements Carbo e-Therm presents numerous advantages:
heating of surface geometries of any shape

excellent applicability, manually or mechanically like paint,

extremely high electrical safety by working on non-hazardous low voltage,

direct use of low-voltage sources (e.g. 12/24 V onboard, solar power),

very simple electrical connection,

easy regulation and control,

high heating power,

perfectly uniform heating of large surface areas without hot spots,

very cost-efficient compared to conventional heating systems.
Depending on the product type, Carbo e-Therm consists of a binder matrix and a specially matched carbon formulation. Due to the excellent conductivity of the coating it is possible to use high heating power based on non-hazardous low voltage (e.g. 12/24 V). Compared to conventional resistance heating, Carbo e-Therm distributes heat absolutely uniformly without any hot spots.

The illustrations below show the heat distribution of a Carbo e-Therm heating layers versus a conventional resistance heating element.




Carbo e-Therm heating layers are mechanically robust. Depending on the product type they show very good permanent elasticity or high hardness, plus they are characterized by excellent resistance to water and alkalis.

Carbo e-Therm is very efficient: one liter of Carbo e-Therm lasts for coating a surface of up to 4 sqm. It can be applied manually or automatically, either by brush, by blade, by roller or by spraying. After applying the layers the drying time is quite short.

To fullfil all different kinds of application requirements FutureCarbon offers a multiple variety of
Carbo e-Therm versions, differing in their matrix systems (e.g. acrylate, polyurethane, silicone) and in their operating temperatures:

Product Version

Max.
Operating Temperature

Carbo e-Therm ACR-100 1W

100º C

Carbo e-Therm PUR-120 1W

120º C

Carbo e-Therm ACR-180 1W

180º C

Carbo e-Therm PUR-200 1W

20

0º C

Carbo e-Therm SIL-250 1S

250º C

Carbo e-Therm WGS-500 1W

500º C

There is a wide variety of possible applications for Carbo e-Therm:
panel heating for automobiles

floor heating (wet areas, mobile homes)

wall heating (renovation)

heated work plates (stone worktops)

heating of measurement equipment (optics)

heating in mechanical engineering

heating of forms (CFK/GRP components)

heating of food (catering)

devices in medical engineering

frost protection (de-icing, anti-icing)