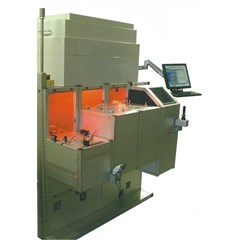 Reticle Inspection, Cleaning & Sorting Equipment
The new "Fab cost savings" equipment SPR has been designed to offer enhanced Fab efficiency and lower cost of ownership for mask management applications.

The SPR is the best cost effective equipment offering 6" reticle inspection and cleaning together with sorting functions between two SMIF pods & one single reticle shipping box.

The architecture based on state-of-the-art sorters, provides the safest & cleanliest reticle handling solutions.

The continuous ionization prevents ESD damages on masks.
Low cost of ownership

ESD management

Real time monitoring of Nitrogen ionization

Optimized 3 rd generation reticle cleaning & inspection module

Innovative Bright Light Inspection system based on high powered LED's

High PRE > 10µm (Particle Removal Efficiency)

Class 0.1 mini environment

ID read

1 single shipping box Load Ports and 2 SMIF Pods load ports (6")

Continuous transfer monitoring

Standard and configurable process programs

Color LCD touch screen

GEM compliance
---
Specifications


Performances
MTBF > 2,000hrs, MTBA > 200hrs
MTTR < 2hrs
Discharge time: 10KV -> 1KV < 10sec
Cleaning time = 1' per side
Update 98%
Read rate ≥ 99.9%
Transfer Arm & Camera Unit
4 contact points transfer technology
ID read
Load Ports
Compatible with all 6" SEMI SMIF Pods and individual shipping boxes
Reticle position analysis
Automated mapping of PODs
Inspection and Cleaning Station
Operated via joystick
3D rotary gripper offers back glass and pellicle inspection/ cleaning
Ionized nitrogen spray
ESD Management
FFU + Ionizing bar over transfer area
Electrostatic discharge by ionized nitrogen spray
Real time ionization monitoring
Dimensions & Facility Requirements
Footprint 1.29m2
Dimensions (wdh) of 1380 x 937 x 1970mm
UPS 90V~240V AC, 50-60Hz, 1-phase
High purity nitrogen gas (6 bars – 300 SLPM)
No vacuum requirement
Communication
SECS/ GEM compliant
Host communication available via RS232 or Ethernet
Operated via host
Options
Bar code reader
RF/ IR tag readers compatible for Pods identification