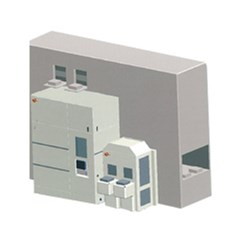 Non Product Wafers Manager
The new 'Fab cost saving' equipment NPW has been designed to offer enhanced Fab efficiency and lower cost of ownership for non product wafers management.
The architecture is a complete flexible solution for test lots preparation. A bare wafer stocker and a wafer sorter are coupled with any FOUP stocker installed in the Fab.
Features
Low cost of ownership

Decreases silicon consumption up to 30%

Improves productivity time of the fab. Test lot delivery time: -50%

Footprint of bare wafer stocker: 3.1m2

Equipment are installed in 'unusable area' next to the FOUP stocker

Two configurations available: 900 or 1200 wafers storage capacity

Class 0.1 mini-environment

PWP < 0.05 particles added @ 65nm per wafer transfer (on the front side)

PWP < 5 particles added @ 65nm per storage day (on the front side)

Complete ESD management

AMC filtering

Stocker integrated or standalone configuration available

Integrated version compatible with many FOUP's stockers: Shinko, Murata, Brooks, Daifuku, R2D
---
Specifications
Performances
Sorter = 350 wafers/ hour & Wafer Stocker = 450 wafers/ hour
(in hidden time thanks to the 25 wafer buffer)
50 lots created per hour (6 wafer kit lots, according to a case study)
Buffer
Interface between sorter environment and bare wafer storage environment
Slide detection sensor for maximum wafer safety
Load lock tightness system
Carrousel
3 or 4 shelves (900 or 1200 wafers storage)
18 to 24 independent storage modules (50 wafers each)
OEM Transfer Robot
Ultra thin finger
Advanced contact technology (backside or edge)
Wafer mapping
Filter Fan Unit
ISO Class 1
2 FFU's Chemical filtration for bare wafer storage module
On the shelves FFU
One pressure sensor and an independently adjustable fan speed per system
AMC Filtering
Efficient LBC combination for total protection
Possibility to combine up to 3 different layers (among A, B, C and L)
Dimensions & Facility Requirements
Footprint area of 3.1m2 for the bare wafer stocker
Dimensions for 900 wafers (wdh)
1300 x 2400 x 2750 mm
Dimensions for 1200 wafers (wdh)
1300 x 2400 x 3200 mm
No vacuum
Options
Alignment & OCR capability in bare wafer stocker
Airborne Molecular Contamination real time monitoring inside bare wafer stocker
Airborne Molecular Contamination control of FOUPS
UPS 90V ~ 240V